Hotel Riu Guanacaste, What to expect?
This is the new Riu Guanacaste hotel, a 5-star resort and located on the seafront in the beautiful Playa Matapalo, region of Guanacaste, on the Pacific coast of Costa Rica. As well as a superb range of leisure possibilities, the hotel offers five modern, fully-equipped conference rooms, and fine restaurants.
Surrounded by lush gardens, this hotel is situated in Playa Matapalo in Guanacaste province on Costa Rica. The hotel's full service Renova Spa offers adult guests a peaceful respite from the day's adventures, and children 4-12 years of age will find plenty to do at the supervised Riu Kids Club. People will enjoy a large pool, sports bars sun terrace area and a myriad of activities available both onsite and off.
Guanacaste is a dry region in Costa Rica, it is less tropical, humid and exuberant than the rest of the country. There are more sunny days and it is hottest than the rest of this small country. Its plains and dry forests sometimes remind one of the African savannah landscape. The interior is the land of 'sabaneros', the local cowboys. Driving their herds on horseback, they have become authentic figures of popular culture.
Here some additional information that will help to know what to expect from the hotel and its service: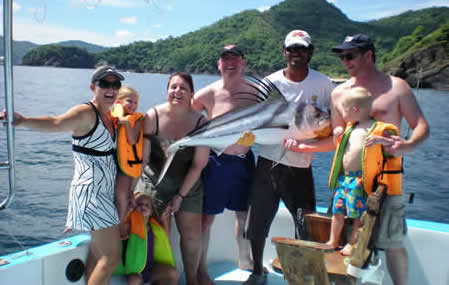 Sports and activities:
* check our site for fishing charters out of Riu Guanacaste:
fishing in Guanacaste
.
* Gym, table tennis, workout, beach-volleyball
* 2 floodlit hard surface tennis courts
* Sauna, jacuzzi
* Windsurfing, sailing, snorkelling equipment, kayaking
* 1 introductory scuba diving lesson in the pool
Entertainment:
* Daytime entertainment programme for children ages 4 to 12 (daily)
* Daytime entertainment programme for adults (daily)
* Shows, Riu evening programme or live music (daily)
Complimentary entrance to the Casino and the night club (drinks not included)
All meals and snacks:
Breakfast:
* Full American breakfast buffet and on the spot cooking stations
* Continental breakfast/snack
Lunch:
* Hot and cold buffet and on the spot cooking stations
* Pizzas, pasta, salads and assorted desserts
Dinner:
* Buffets and on the spot cooking stations
* Special evenings: Theme buffets (3 times a week)
There are other dining options, however, a reservations is required in advance and you can make a reservation at the lobby between 11:00am until 2:00pm. Restaurant options are: Asian, Italian, Grill and steak house. Formal dress is required but not long trousers for gentlemen but polo t-shirts.
Snacks 24 hours a day
Beverages:
* Unlimited local and imported beverages 24 hours a day
* Regularly restocked mini-bar and liquor dispenser In-room safe
All accommodations, taxes and gratuities
All hotel guests are required to wear an "all inclusive" wristband for identification purposes Restaurants and Bars
All Inclusive 24 hours
In the hotel (additional charge):
* Billiards
About the place where the hotel is: Playa Matapalo or Matapalo beach, it is in the gulf of Papagayo and there are many other beaches near here: Ocotal, Playa Hermosa or Playa del Coco. Coco beach is 40 minutes by car or if you prefer 10 minutes by boat ride, here you will find plenty of stores and nightlife, supermarkets, drugstore, banks and many others facilities.
RESORT CONTACT:
Playa Matapalo, Guanacaste, Costa Rica.
Telephone: (011)-(506) 2681-2300