Fishing Near Riu hotels in Guanacaste
The gulf of Papagayo is well know for its rich concentration of big sized roosterfish, yes, other than sail and marlin roosterfish is the target best appreciated by sports-fishermen who come to this region looking for a fishing adventure. This fish is caught round the year, however, it is more abundant in months between May and October.
These waters are also well known to be highly productive for billfish: sail, Blue, Black and Striped marlin, big dorado and seasonal wahoo and yellowfin tuna when fishing offshore.
Are you new to fishing or is this your first time fishing in Papagayo? If so then there is some extremely fun inshore fishing where you can catch grouper, snapper, jacks, and a slew of other bottom fishing species that call the Papagayo fishing grounds home. And just because you may be new to fishing doesn't mean you can't catch a very large fish. You also can book an offshore charter and target for the big one, a blue or black marlin, a pacific sailfish or a bull dorado...
Contact

Papagayo SportFishing

( Genaro Mendez )


Call us: C.R at :: 011-(506)-8331-2731
or local in USA at :: 954-601-5141
riufishing@papagayo.me
Our Fishing boats
Find below a list of boats we have available for beach pick up out of Riu Guanacaste and Riu Palace Costa Rica. Give us a call or send us and email and let us know how can we help you...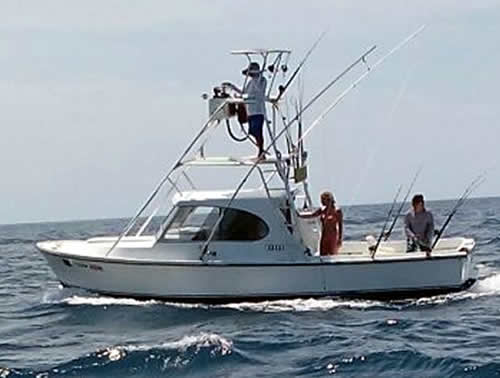 LA MANTA


La Manta is a 28ft Shamrock that boasts a large spacious cockpit that is perfect for standup or fly. Marine head, Electronics, Livewell, Tuna-tubes, everything you need for the perfect day offshore or in.
There is a restroom on board this boat for ladies convenience.

Price for up to 3 people per boat.
La Manta boat rates:
Full day : 8 hours = $750 (offshore / inshore)
6 Hours Trip = $650 (offshore / Inshore)
Half day : 4 hours = $500 (Inshore)
MAHI-MAHI


This is a Mako 24ft boat powered by 200hp Yamaha outboard engine. Include all fishing equipment. Captain: Arnaldo Mendez is one of our best fisherman and one of the luckiest captain.
There is a toilet in the console box on board this boat, for the ladies convenience.

Price for up to 3 people per boat.
Mahi Mahi boat rates:
Full day : 8 hours = $550 (inshore)
6 Hours Trip = $475 (Inshore)
Half day : 4 hours = $375 (Inshore)
KILEY boat


The Kiley is a 30ft Carolina Classic fishing boat powered by twin 240hp Cummins. This boat can accommodate 4 people comfortable. The two engines give this boat a cruising speed of 24 miles and a max speed of 33. There is a complete bathroom on board, tower and outfitted with tournament quality gear (Shimano-Penn). Captain: Jesus Mendez with more than 25 years fishing in these waters has large experience as sportfisherman in Tamarindo and Papagayo.

Prices in a basis of 4 people per boat.
Rates:
Full day : 8 hours = $1050 (inshore or offshore)
6 Hours Trip = $950 (Offshore or Inshore)
Half day : 4 hours = $750 (Inshore only)
LA CHILA-G


Custom build, 33ft, powered by 425hp Cummins. The boat has restoom aboard. Include all fishing equipment (Shimano and Penn International tackle, GPS, fishfinder).

Prices in a basis of 4 people per boat.
Rates:
Full day : 8 hours = $875 (inshore or offshore)
6 Hours Trip = $725 (Offshore or Inshore)
Half day : 4 hours = $650 (Inshore only)
CORMORAN boat:


Custom build, the CORMORAN-A boat 32ft, powered by 315hp Yanmar and big enough for 4 people. The boat has restoom aboard. Include all fishing equipment (Shimano and Penn International tackle, GPS, fishfinder). Captain: Arnaldo Mendez.

Prices in a basis of 3 people per boat.
Rates:
Full day : 8 hours = $825 (inshore or offshore)
6 Hours Trip = $725 (Offshore or Inshore)
Half day : 4 hours = $600 (Inshore only)

BRINDISI:


This is a Bertram 50ft, the boat is powered by twin 750hp Detroits, this is a luxury boat with a huge and comfortable cabin airconditioned. The boat can accommodate up to 10 people comfortable. Two complete bathrooms on board.

Prices in a basis of 8 people per boat.
Rates:
Full day : 8 hours = $2450 (inshore or offshore)
6 Hours Trip = $2100 (Offshore or Inshore)
Half day : 4 hours = $1700 (Inshore only)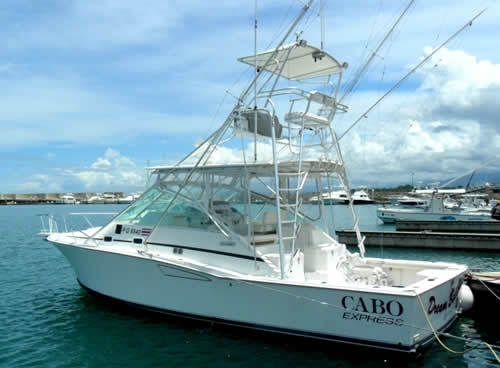 VICTORY:


The Victory is a 36 Cabo Express Sport Fishing Cabin Cruiser. A favourite of charter captains and seasoned anglers worldwide, she features a hull with small propeller pockets and clean underwater lines that create two ideal trolling alleys behind the transom, greatly increasing the number of strikes. The Victory accommodates up to eight guests.
The boat feature: twin caterpillar 435hp engines, Black fin rods, Shimano Tiagra Reels, radar, privated restroom and cabin with airconditioning.
Price for up to 7 people per boat.
Rates:
Full day : 8 hours = $1700 (inshore or offshore)
6 Hours Trip = $1550 (Offshore or Inshore)
Half day : 4 hours = $1300 (Inshore only)
LA POLA:


La Pola is a Mako boat powered by Yamaha 115HP. This boat is perfect for those who want to go fishing for a few hours close to the shore and expect some jacks, tunas, small dorados or Roosterfish. The boat can accommodate 2 kids and one adult or two adults and one kid. Include all fishing equipment.

Prices in a basis of 2-3 people per boat.
Rates:
Full day : 8 hours = $500 (inshore or offshore)
6 Hours Trip = $450 (Offshore or Inshore)
Half day : 4 hours = $375 (Inshore only)
T-BOAT:


This 44-foot Hatteras powered by twin turbo diesel 550hp Detroits engine is perfect for large groups, this boat can take up to 9-10 people fishing comfortable. Open soprt fishing boat with cabin and enough room for each one enjoy the ride and fishing. There is a restoom onboard. Include all fishing equipment (Shimano and Penn International tackle, GPS, fishfinder). Captain: Thomas with more than 20 years fishing in these waters has large experience as sportfisherman in Tamarindo and Papagayo.

Prices in a basis of 9 people per boat.
Rates:
Full day : 8 hours = $2050 (inshore or offshore)
6 Hours Trip = $1750 (Offshore or Inshore)
Half day : 4 hours = $1450 (Inshore only)
BRINDISI 37:


The Brindisi 37 is a Chris Craft well maintained boat which was repowered recently with twin Cummins 380hp. The boat can accommodate comfortable 6 people; however, one or two more fishermen may come aboard for a larger group. On board, marine toilet, two beds, shimano and penn reels.

Prices in a basis of 6 people per boat.
Rates:
Full day : 8 hours = $1650 (inshore or offshore)
6 Hours Trip = $1450 (Offshore or Inshore)
Half day : 4 hours = $1200 (Inshore only)
The TUNA FISH boat:


31ft Phoneix boat. The boat has restoom aboard. Include all fishing equipment.

Prices in a basis of 4 people per boat.
Rates:
Full day : 8 hours = $1025 (inshore or offshore)
6 Hours Trip = $875 (Offshore or Inshore)
Half day : 4 hours = $750 (Inshore only)